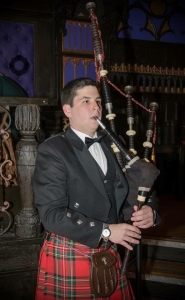 Instructors: Lezlie Webster, EUSPBA Adjudicator, prizewinning, Professional Piper for 42 years, Graduate Institute of Piping, proven success with students from beginners to advanced. Played in several Grade 2 Pipe Bands, started Boston Police, Gaelic Fire Brigade, St Andrews Ladies. Currently teaching NH Police and NH Pipes and Drums as well as teaching bagpipes as adjunct faculty at Phillips Exeter, Phillips Andover, Groton and St Paul's Schools. Also many private students at above schools, Manchester and Concord.
Campbell Webster – US Piping Foundation overrall Champion for Amateurs 2013, 2014 winning trips to Scotland to compete. Now a prizewinning solo Professional Piper as well as playing in the Grade 1 Stuart Highlanders (competing at the World's 2014, 2015). Professional Drum Major, Grade 2 Snare Drummer, fiddler. Cam is also Pipe Major of the NH Pipes and Drums.
Cam has several years experience teaching and is taking on students from beginner to Grade 1 as private lessons or groups.