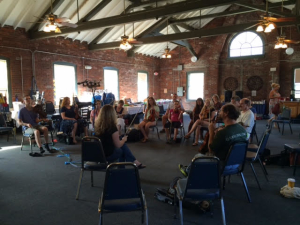 Fiddle Lessons
Barbara McOwen will be teaching in Manchester on Thursdays. A professional fiddler, teacher, performer, composer, publisher, Barbara brings a wealth of experience. Accepting limited students because of time constraints.
Marielle Webster – one of Barbara's top students. An advanced player with performing and teaching experience. Marielle has classes in Nottingham on Mondays, other weekdays in Concord and Manchester.
Left is picture of Marielle teaching "classics" class at Boston Harbor Fiddle School.